Pathway Director
Associate Residency Program Director – Research and Scholarship
Overview of Pathway Curriculum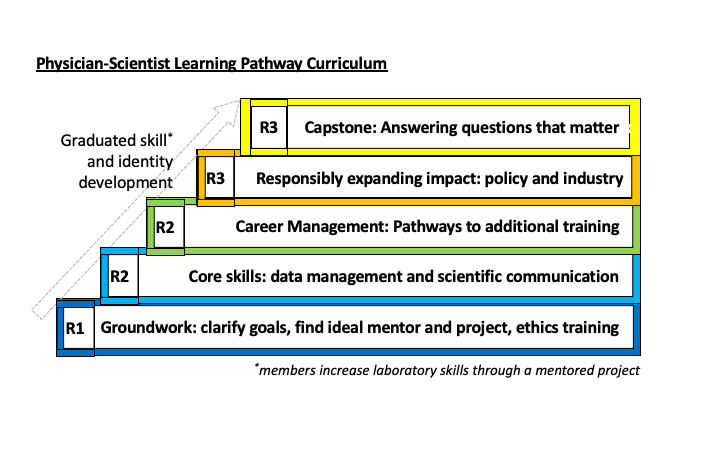 This three-year pathway integrates residents who plan careers as physician-scientists in an environment supported by mentors, sponsors, and departmental commitment in order to:
create opportunities to apply and grow scientific thinking
sustain commitment to research as a pursuit, profession, and career development pathway
increase core skills
help participants achieve the next career milestone, which often are subspecialty fellowships that incorporate formal research training
Our Primary Care Track and Categorical Track residents may apply to join the pathway early in their intern year.
Residents planning to follow the ABIM Research Pathway or Global Health Pathway are ineligible.
Pathway Components
| | |
| --- | --- |
| Dedicated time for research | 2-3 guaranteed blocks of research to complete an approved, mentored research project |
| Professional development | Annual professional development activities in areas such as: managing mentor/mentee relations, choosing a lab, setting professional goals, research training pathways, careers beyond academia |
| Core curriculum | Skill building in core areas such as: research ethics, protecting data integrity, study design, scientific communication |
| Works-in-progress | Opportunity for expert and peer feedback on your evolving science |
| Capstone senior elective | An elective that integrates the roles of physician and scientist by focusing on learning how to answer questions that matter |

Additional benefits include being a member of the vibrant community of investigators at University of Washington and building connections to subspecialty divisions that are important for career advancement.
Current Residents
| Grad Class of 2024 | Grad Class of 2023 | Grad Class of 2022 |
| --- | --- | --- |
| Juan Conde, MD | Alwiya Ahmed, MD | Sheela Damle, MD, PhD |
| Ruth Howe, MD, PhD | Shiv Bhandari, MD | Hannah Hill, MD |
| Olivia Lin, MD | Maria Cassera, MD | Vivian Liu, MD |
| Cass Sunga, MD | Kellen Hirsch, MD, PhD | Ryan Stultz, MD, PhD |
|   | Peiqi Wang, MD, PhD |   |